The classic burger patty was the first breakaway product to really disrupt the omnivore status quo. In 2018, the Beyond Burger was outselling beef-based patties in some supermarkets, and the debut of the Impossible Whopper shot Burger King's sales through the roof as the financially declining chain reported its best quarter in four years. While vegan beef stole the spotlight in the late 2010s, vegan chicken is the star of the twenties. Between the explosion of store-bought chicken nuggets to the full vegan revamp of Morningstar Farms, vegan chicken is here to stay. Here are all of the juicy, tender, golden, crispy vegan chicken products you can find at the store and online.
VFC
1 Vegan Fried Chick*n (VFC)
KFC's vegan fried chicken may come and go, but this UK-based company is filling in the gaps. Now available in the US, VFC's line of tender, crispy vegan chicken products that satisfy that itch for this familiar food. The range includes breaded Chick*n Files, Bites, and Popcorn Chick*n that are available to order online through Vejii and GTFO It's Vegan.
Learn more here
The Healthy Addiction
2 Quorn
This long-standing vegetarian brand offers a medley of now-vegan chicken options including kid-friendly dino nuggets (currently only available in the UK). In the US, Quorn carries crispy Meatless Spicy Patties, snackable Buffalo Dippers, breaded Chipotle Cutlets, Pineapple Chipotle Meatless Chiqin Dippers, and grilled Meatless Fillets and Meatless Pieces. Note: the Meatless Nuggets are not vegan—they contain egg and milk ingredients.
Learn more here
VegNews
3 Morningstar Farms/Incogmeato
Jumping on the vegan market trend, this decades-old vegetarian meat company launched a new plant-based meat line to compete in the freezer aisle. The Incogmeato chicken options range from traditional chicken nuggets to fun Mickey Mouse-shaped nuggets. The Incogmeato brand also includes Original and Sweet BBQ Chick'n Tenders. The mother brand, Morningstar, also offers a wide range of frozen, vegan-friendly chicken options from patties to nuggets.
Learn more here
Madison Vegan Eats
4 Garden
In the early-to-mid 2010s, Gardein swept veg fests, leaving vegans and omnivores alike astonished at "how real" its meatless products tasted. While perhaps overshadowed by some of the newer food tech startups, Gardein has remained solid in its widely accessible and vast range of vegan chicken options. Not only does it produce the standard vegan nugget, patty, and grillable fillet, Gardein sells frozen vegan Chick'n Sliders, Chick'n Scallopini, and Chick'n Wings in a variety of flavors from barbecue to gochujang. If you're craving a specific preparation of chicken, Gardein is likely to have a vegan version of it.
Learn more here
SIMULATE
5
NUGGS
Made by food-tech startup SIMULATE, these golden meaty snacks aim to be the "Tesla of chicken nuggets." They're made with a blend of soy and wheat proteins to mimic both taste and texture. The company posits these nuggets as close to real chicken as you can get—minus the cruelty and hazardous environmental impact. Consumers can find NUGGS at some of the nation's largest retailers including Walmart, Target, and Sam's Club. The brand also makes vegan chicken wings that are perfect for any game day spread.
Learn more here
Conscious Chris
6
Alpha Foods
Alpha covers all the vegan chicken basics—nuggets, chick'n burgers, and grilled strips. What's unique is its fourth chicken offering: Chick'n Pot Pie. Resembling a Hot Pocket, these handheld microwavable meals come in a variety of flavors showcasing Alpha Foods' meatless chicken: Buffalo, Veggie, and Pesto. Alpha vegan chicken products can be found in a variety of stores including Costco, Sprouts, Kroger stores, and Albertsons.
Learn more here
7 Whole Foods 365
This better-for-you-grocer is continually adding to its plant-based line of products. The frozen Chicken-Style Plant-Based Nuggets and Chicken-Style Plant-Based Patties join the lineup of vegan ice creams, cheeses, and other meats that now make up the 365 line.
Learn more here
The Baking Fairy
8 Boca
Originally known for its veggie burgers, Boca has branched out to include vegan chicken. Options span from soy-based nuggets to original and spicy vegan chicken burger patties.
Learn more here
Dr. Praeger's
9 Dr. Praeger's
Not all Dr. Praeger's products are vegan, but the Pure Plant Protein line of vegan chicken sliders and tenders are all a safe bet. All products are gluten- and soy-free and made with Non-GMO Project Verified ingredients.
Learn more here
Atlas Monroe
10 Atlas Monroe
You won't find this vegan fried chicken in stores, but if you're quick, you can order it online. Founder Deborah Torres gained traction for her company after appearing on the ABC hit reality show, Shark Tank. While the Sharks demolished her samples and made a $1 million offer, Torres turned them down to keep ownership of her businesses. Since then, she's partnered with vegan chain Copper Branch, and continues to ship her vegan fried chicken nationwide. Follow @atlas.monroe on Instagram for updates on the next restocking date.
Learn more here
Rachely Hernandez
11 Tofurky
The originator of the iconic vegan Thanksgiving roast has massively expanded its product line to include burgers, deli slices, grounds, and pieces. The Plant-Based Chick'n line encompasses grilled and seasoned vegan chicken pieces you can find in the refrigerated section of the grocery store. Flavors include Lightly Seasoned, Thai Basil, Sesame Garlic, and Barbecue.
Learn more here
Sweet Earth Foods
12 Sweet Earth Foods
Prepare to do a double take when you reach for Sweet Earth's Mindful Chick'n Strips. While it may look like chunks of chicken, these soy-based pieces are completely animal-free. Use them in stir-frys, salads, curries, grain bowls, and burritos for a delicious protein boost to your meal.
Learn more here
The Vegan Taste Tester
13 Trader Joe's
This tiki-themed grocer tends to abide by the philosophy of "why have others do it for you if you could do it yourself?" In addition to its name-brand assortment of vegan burgers, mac and cheese, chorizo, and ice cream, TJ's created its own plant-based chicken. The Chickenless line ranges from savory seasoning to mandarin orange bites to crispy tenders. Stock up.
Learn more here
Field Roast
14 Field Roast
The Fruffalo Wings are no more—well, at least not by name. This vegan meat-and-cheese company rebranded its spicy, wingless frozen chicken appetizer, opting to drop the whimsical name for something more straightforward: Buffalo Wings. While we miss saying "fruffalo," we don't miss the taste that hooked us from day one. Prefer a nugget to a wing? Field Roast offers those, too.
Learn more here
Daring Foods
15th Daring
New to the vegan chicken market, Daring has created a frozen product that is both high-protein and low-calorie—we're talking 90 calories per serving and 14 grams of protein for the original variety. The three other options include Lemon & Herb, Cajun, and Breaded. Consumers can find the variety packages at Sprouts and online.
Learn more here
Lightlife
16 Lightlife
For a soy-based vegan chicken you can season and stuff into burritos, check out Lightlife's Smart Tenders. One serving contains 18 grams of protein and zero saturated fat. They're fairly plain on their own, but they work wonders with a drenching of vegan alfredo sauce or a coating of taco seasoning. Fajita Friday, anyone?
Learn more here
Hungry Planet
17 Hungry Planet
Odds are, you may have enjoyed a crispy Chipotle Chicken Patty from Hungry Planet and not realized it. This company is a formidable player in the foodservice market, providing many non-vegan eateries with its plant-based chicken patties and versatile grounds. Smaller, 12-ounce portions of the ground chicken are also available in select grocers across the US with a heavy concentration east of San Antonino, TX. From homemade nuggets to spicy fajitas, the meals you can create with this vegan chicken are infinite.
Learn more here
Jack & Annie's
18 Jack & Annie's
Jack & Annie's takes a unique approach to its vegan chicken. In lieu of using the typical soy, seitan, or pea-based proteins, the company relies on jackfruit to replicate chicken's tender, meaty chew. While a number of vegan meats are made under this brand (meatballs, sausages, beefy crumbles, etc), the chicken options are outstanding. Find the buffalo wings and crispy chicken nuggets in the frozen aisle of your local Target, Sprouts, or Wegman's.
Learn more here
Sol Cuisine
19 Sol Cuisine
Not a nugget and not quite popcorn chicken, these juicy plant-based Crispy Chik'n Bites are addictively snackable. The package comes with barbecue sauce, but these bites work well with any number of dips from buffalo to vegan honey mustard. Bake up a batch for a hoard of hungry kids or a board game night—no matter what the occasion, they'll go fast!
Learn more here
@CaliforniaCalories/Instagram
20 Nowadays
For something meant to mimic junk food, these tender nuggets are surprisingly free of junk. Nowadays only uses seven ingredients that are somehow transformed into incredibly tasty vegan chicken nuggets. Who knew organic pea protein, whole wheat flour, yeast extract, mushroom extract, maple fiber, sunflower oil, and water could be so good?
Learn more here
Beyond Meet
21 Beyond Meet
From the brand that revolutionized "bleeding" vegan burgers comes Beyond Chicken. After giving us iconic collaborations with KFC and Panda Express, Beyond Meat is satisfying our cravings with it's newest product. The breaded plant-based tenders were initally available at 400 restaurants, but have now expanded into 8,000 stores. Vegan chicken for all!
Learn more here
Impossible Foods
22 Impossible Foods
This vegan food tech giant won't be left behind. Since perfecting it's meaty vegan burgers, Impossible Foods has chured out a bevy of plant-based beef and pork products, and now, it's launched vegan chicken. Forget about dino nuggets and opt for the brand's chicken nuggets shaped like endangered animals guaranteed to spark a conversation.
Learn more here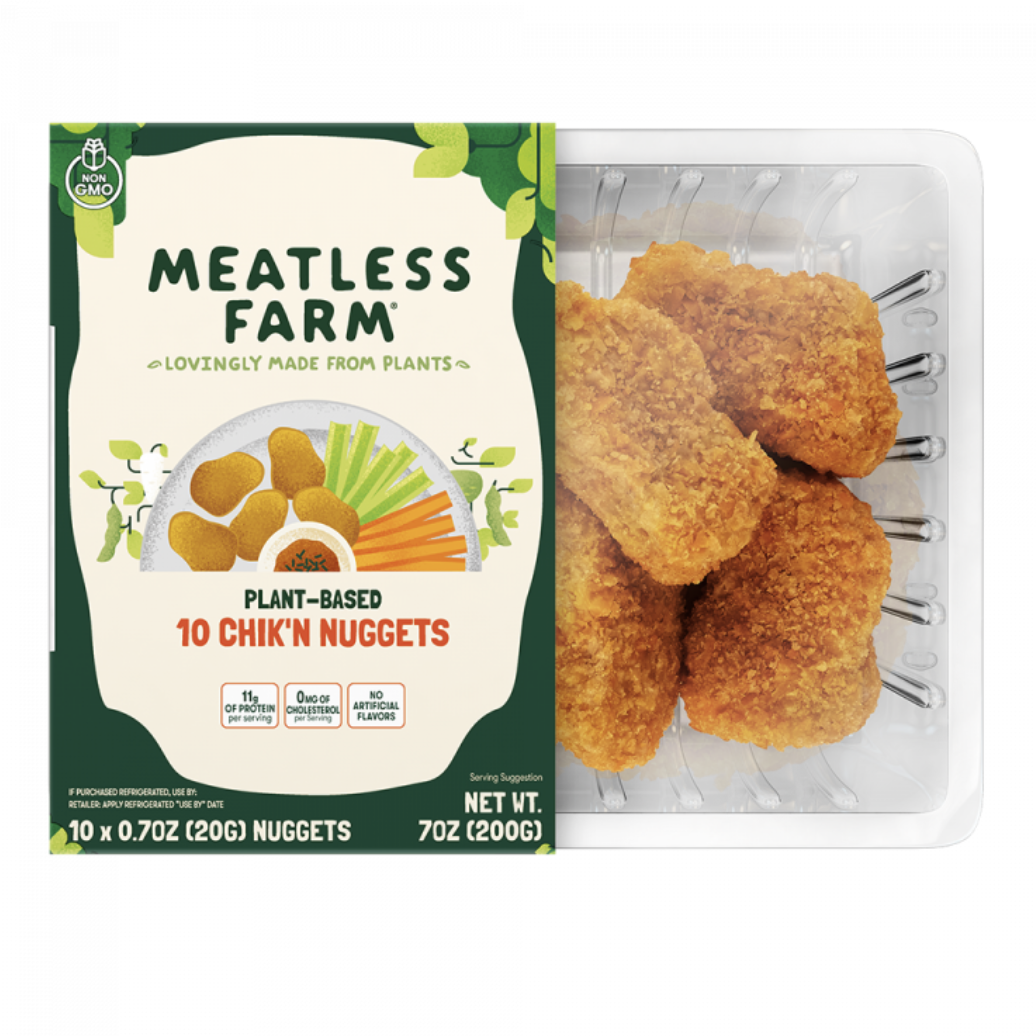 Meetless Farm
23 Meetless Farm
Meatless Farm is on a mission to help the planet, and they're banking on vegan food to help them do it. While the brand offers a selection of plant-based meats ranging from breakfast patties to meatballs and grounds, it's the Chik'n Cutlet that can't be missed. The seitan- and pea-based protein features a cornflake breading for added crispyness.
Learn more here
Rebellious Foods
24 Rebellious Foods
These golden, juicy, crispy bites are available at select retailers and restaurants across Oregon, Washington, and California. Not in the West Coast? Don't fret—Rebellyous Foods' plant-based tenders, nuggets, and patties are available for nationwide shipping through online retailer GTFO It's Vegan.
Learn more here
For more vegan meat, read:
10 Vegan Seafood Options That Are Swimming in Flavor
17 Juicy Vegan Burgers That Are Better Than the Big Mac
22 Vegan Fried Chicken Sandwiches Better Than Chick-fil-A
Get FREE vegan recipes delivered to your inbox by signing up for our award-winning VegNews Recipe Club.
Sign Up
Get FREE vegan recipes delivered to your inbox by signing up for our award-winning VegNews Recipe Club.
Sign Up